CG Logistics Launches New Sustainability Initiatives to Reduce Carbon Footprint - Neetu Khandelwal
[India, New Delhi], CG Logistics, a prominent logistics company, has declared the launch of new sustainability initiatives directed at decreasing the carbon footprint of the company. With a powerful commitment to environmental responsibility, CG Logistics is adopting concrete measures to decrease its impact on the environment and encourage a more sustainable future.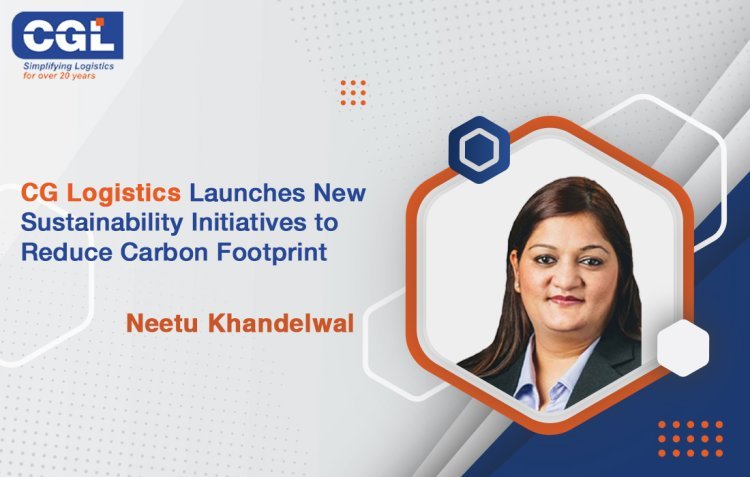 As a part of the sustainability measures, CG Logistics will be implementing a number of measures to decrease carbon emissions, including investing in electronic and hybrid vehicles for its fleet, optimising delivery routes for the purpose of reducing fuel consumption, and increasing the use of renewable sources of energy.
"We are dedicated to performing our part to secure the environment and build a more sustainable future for all," said Neetu Khandelwal, COO of CG Logistics. "As a logistics company, we recognise the influence that our activities can have on the environment, and we are implementing proactive measures to decrease our carbon footprint and encourage sustainable activities."
As part of its sustainability initiatives, the company has also introduced a comprehensive training programme for its workers to raise their consciousness about sustainability practises and motivate them to adopt eco-friendly behaviours in their routine activities. This programme would include topics like conservation of energy, waste reduction, and sustainable transportation.
Along with its efforts to decrease carbon emissions, CG Logistics is also committed to encouraging sustainable practises in its overall operations. This involves applying a waste reduction programme, implementing environmentally friendly packaging materials, and partnering with suppliers who share its dedication to sustainability.
Our sustainability measures are a consideration of our dedication to our clients, the environment, and our planet," said Neetu Khandelwal. "We believe that it is our obligation to take action and make a positive influence across the world. By decreasing our carbon footprint and encouraging sustainable practises, we are doing our part to form a more sustainable future for the upcoming generation."
CG Logistics has also entered into partnerships with prominent sustainability organisations to stay up-to-date with the current trends and best practises in sustainability. This collaboration will support the company's efforts to improve its sustainability efforts in a continuous manner and identify new opportunities for decreasing its carbon footprint. As a consequence of its efforts, CG Logistics is predicted to considerably decrease its carbon emissions and have a positive impact on the environment. The company expects that its sustainability initiatives will motivate others in the logistics sector to take identical measures towards a more sustainable future.
"At CG Logistics, we believe that sustainability is not just an obligation but a prospect for positive change," said Neetu Khandelwal. "We are thrilled to introduce these new sustainability initiatives and look forward to working with our consumers, partners, and stakeholders to create a more sustainable future for all."
CG Logistics invites all its stakeholders to join them in their efforts towards a more sustainable future. Together, we could make a difference and build a better world for future generations.
For additional information, please visit the websites of CGL India Pvt. Ltd. or get in touch with them directly through their contact details.
Contact Information
A-5, Gaur Bhawan
Mahipalpur, New Delhi 110037
Email: info@cglindia.net
Tel: +91-11-48588888