Hash Innovation: Partner Of Your Digital Success Journey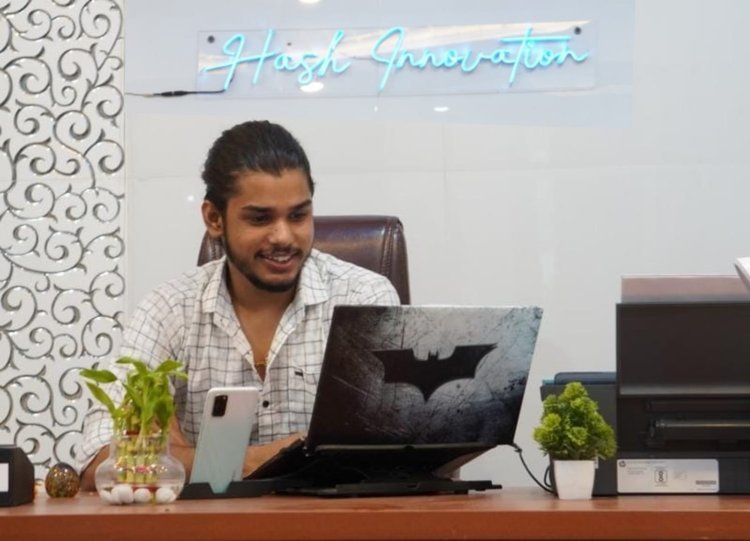 Humans have an undying desire to stand out and be different from individuals who are similar to them. In some, this desire is so deeply rooted that they not only eventually find ways to stand out, but they also manage to build a profitable business out of it.
Shubham Sahu, a Class XII student from Jaunpur in Uttar Pradesh, had to work hard to have his name appear in a Google search so that he stands out from the crowd. After a lot of research, he found a website that helped people get listed on Google.
On further search, he realized that there was no one in his city who was into creating websites and developing apps. This he saw as an opportunity, and he learned coding and started building websites for others as a freelancer.
After working as a freelancer for almost two years, Shubham Sahu finally launched his website and app developing agency , Hash Innovation, in 2020.
With a team of over twelve freelancers and four core members, Hash Innovation is a full-time website design and digital marketing agency based in Jaunpur, Uttar Pradesh. It is one of the foremost offshore service providers in India, offering a range of web design and development services to organizations across the world.
Even though the journey of entrepreneur Shubham Sahu began in 2020, his journey as a freelance digital marketer, however, started in 2018, and by 2020 he had already served several clients. Apart from serving different clients and businesses, the young digital marketing expert has also worked with industry professionals like Neil Patel and Rohan Chaubey.
When Shubham Sahu started his journey as a freelance digital marketer, he had only two clients. However, with one referral after the other, his name spread far and wide, and by the time he planned to start his own digital marketing agency, he had a strong foundation of over 40 clients to attest to his work.
With a mantra of "focus on local," Hash Innovation has grown as a company, serving over 167 clients and successfully carrying out over 119 marketing campaigns.
The digital marketing landscape has grown significantly in recent years, making it a crucial instrument for any company serious about reaching its commercial objectives. Hash Innovation's digital marketers love taking on the challenge of getting your complicated ideas across to your target audience.
Hash Innovation employs a variety of digital marketing techniques to help your company see a rise in sales and a marked improvement in its reputation.
So, if you are thinking of expanding your business and helping it grow digitally, don't look any further; contact Has Innovation and get your digital marketing strategy right.
To know more about the company, visit their website, www.hashinnovation.in.