Explore the hidden secrets of the ancient and spiritual realm with- Rudraksham.com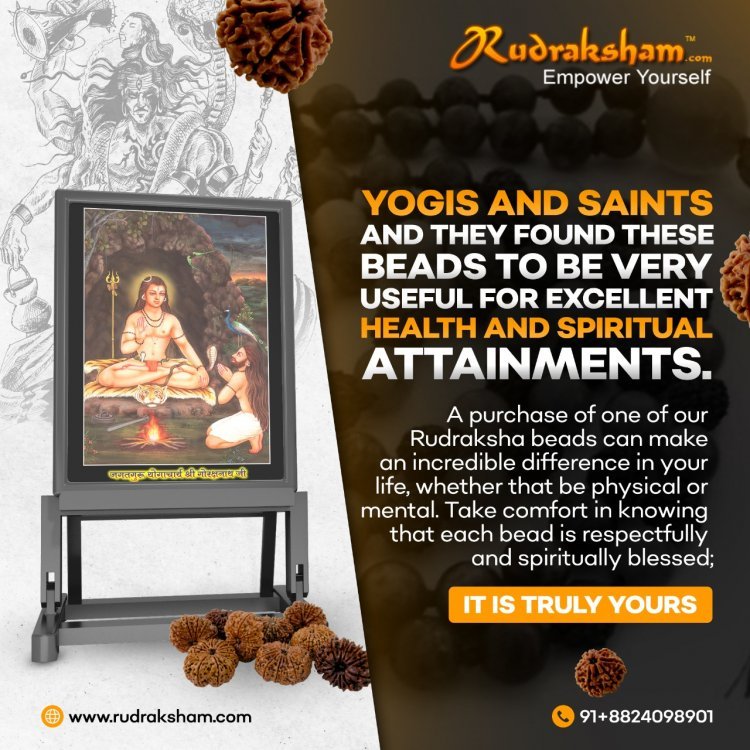 Rudraksham Web Stores India Pvt Ltd -Health and Wellness (Spiritual Goods Store) popularly called the Rudraksham. com, through selfless service, aspires to be recognised and appreciated as the most esteemed Rudraksha consortium in the world, as well as to be known as the hallmark of spirituality. It strives to rejuvenate the spiritual truth and spiritual notion of Rudraksha by addressing the needs of the common masses by making it budget-friendly and economical.
The founder of the label Rudraksham.com is Mr Harinesh Kumar Jain, a skilled Electrical Engineer. He is now a distinguished Rudraksha specialist, lecturer, and ardent follower of Rudraksha and the Universe's ultimate force, Shri Goraksha Nath Ji. Mr Jain was competent to successfully unlock the unparalleled secret power of the Rudraksha to a great extent with the blessing of Shri Nath Ji. He believes that the power of Rudraksha is far greater than anything else in the Universe, including gems, mantras, yantras, and tantras. Mr Jain practices Hatha Yoga and other Mantric practices with the blessing of his Great Guru Yogi Shree Santosh Nath Ji. He staunchly asserts that the Divine exists in the highest Guru form and is known to Shree Shambhujati Guru Goraksha Nath Ji. Mr Jain is a big connoisseur of the Rudraksha beads and is adept at teaching people about them. His counsel has aided numerous in need. He chalks up using his experience to assist others who are going through a difficult time.
The Rudraksham.com website was developed by a group of folks who are engaged in meditation and spirituality and are devotees of the Nath sect. They practise Dhyana-Yoga (and Hath Yoga) and think that only the blessing of a true Guru can illuminate ancient secret wisdom and truth about God. With Harinesh's expertise and care, their hand-picked Nepalese beads go through an invigorating procedure that can last anywhere from eight to 108 days. Harinesh and his colleagues devote their complete focus and attention to Sadhana, a daily spiritual practice, to reveal the genuine power of the Rudraksha.
A purchase of one of their Rudraksha beads can make a huge difference in a person's life inclusive of physical and mental well-being. They take solace in knowing that each bead has been respectfully and spiritually blessed; it is genuinely yin and yang. They have been serving through their website a large quantum of the population since 2001-2002. But it was in the very year 2012 that they officially established their label as Rudraksham.com as a trademark.
They offer to be the north star in this spiritual journey to those who seek it. Anyone who visits their website and procures their services receives printed instructions from them outlining the regulations to follow and mantra practices. All Rudraksha are sanctified and energised before distribution. Undoubtedly, they have attained the Shiksha from great gurus. Their Rudraksha is made in the manner indicated in numerous scriptures (Puranas - 10). Puranas describe the radiance of Rudraksha. They supply Rudraksha globally (online and offline )and for those who are mired in life and seeking spiritual answers or direction, they are available anytime to assist them. Those who aspire to initiate their spiritual path can also connect with them at any point in their lives. They are the Guru mukhees ( initiated by masters).
The most unique quality of their service is that they obtain high-grade Nepalese Rudraksha and maximise its full potential. They always assure their clients that whatever is said in their scriptures is 100% true if followed faithfully. Whatever they grasped sagaciously on their spiritual journey, they passed on to their audience and clientele. They have been victoriously gaining potential growth in their venture to date. Since 2012, the brand has increased 4 times.
So without much adieu explore their website for True Rudraksha, Rudraksha Beads, Rudraksha Mala, Prayer Beads, Prayer Mala,
Rudraksha Rosary, Rudraksha bracelet, wrist band, pendants, jewellery and many more. To connect with them follow up or ping through the following links-
Know more: www.rudraksham.com