Arvind Kejriwal met Anganwadi and Asha workers in Amritsar to know their issues
Said, will fulfill all demands of Anganwadi and Asha wokers once AAP govt. is formed Will always use my voice and identity to protect the rights of common, promised Bhagwant Mann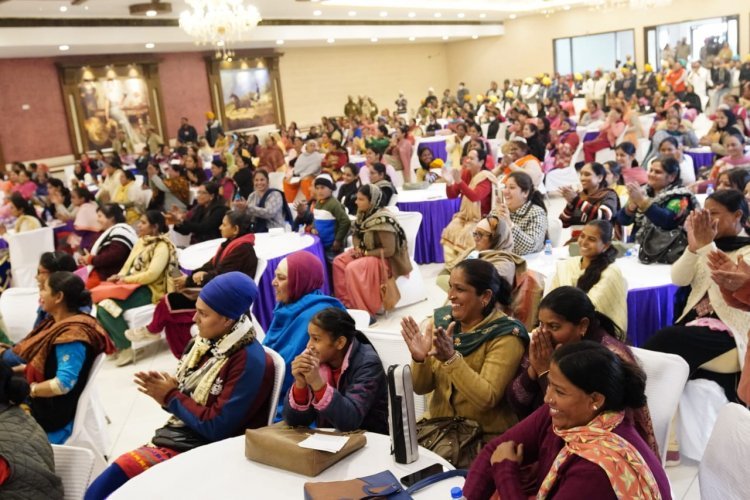 Arvind Kejriwal met Anganwadi and Asha workers in Amritsar to know their issues
Amritsar, December 25, On the second day of his visit in Punjab, Aam Aadmi Party (AAP) National Convener and Delhi Chief Minister Arvind Kejriwal met Aanganwadi and Asha workers of Punjab under the program 'Arvind Kejriwal's Dialogue with Aanganwadi and Asha workers', to understand their issues and assured them that all their problems will be solved and demands fulfilled once AAP government is formed in Punjab. He was accompanied by Bhagwant Mann, AAP Punjab President and Member of Parliament, Kunwar Vijay Pratap Singh, AAP leader and contestant from Amritsar North and Sukhbir Kaur, Women Wing President Amritsar.
During his address Arvind Kejriwal said that Aam Aadmi Party is the only party that goes to people to know their issues so that once they're voted to power they can solve those issues. He promised that like Delhi corruption will be eradicated from Punjab's system and all demands of Asha and Anganwadi workers will be met. He said, "Third guarantee announced by AAP, which was heavily criticized by the other political parties, alone will provide a great deal of financial help to women in Punjab. We only did one thing in Delhi – corruption elimination. Then we were able to provide free water, electricity, best schools and hospitals, and free transportation for women." He urged Anganwadi and Asha worker to get united to form Aam Aadmi Party government in Punjab and they'll solve all their issues. He added that in Delhi, they've doubled the pay and incentive amounts and similar benefits will be given to Punjab workers.
Madam Rajbir Kaur told Kejriwal about issues and demands of Asha workers, whereas Paramjit Kaur (Anganwadi leader) enlightened him about the hardships of Aanganwadi workers. Low pay scale, no vacation, no compensation to the families of Asha workers who died during Covid pandemic etc. were the matters of their plight.
Addressing the gathered Anganwadi and Asha workers Bhagwant Mann said, "We don't make manifesto sitting in the Drawing rooms like other parties. We go to people to know their issues and needs. When we are voted to power, I assure you we'll use that power to take pro-people decisions only." He said that other parties do politics of hate based on religion and caste but, AAP do politics for the development of people. He added that today people don't trust politicians because of corrupt and liars in the field but Arvind Kejriwal changed the game as he does what he promises. He expressed grief over the lathicharge incidents against protesting Aanganwadi, Asha wokers, teachers and farmers and promised that he'll always use his voice and identity to protect the rights of people.