Sales 5.0 Customer experience - Dr Alok Chandra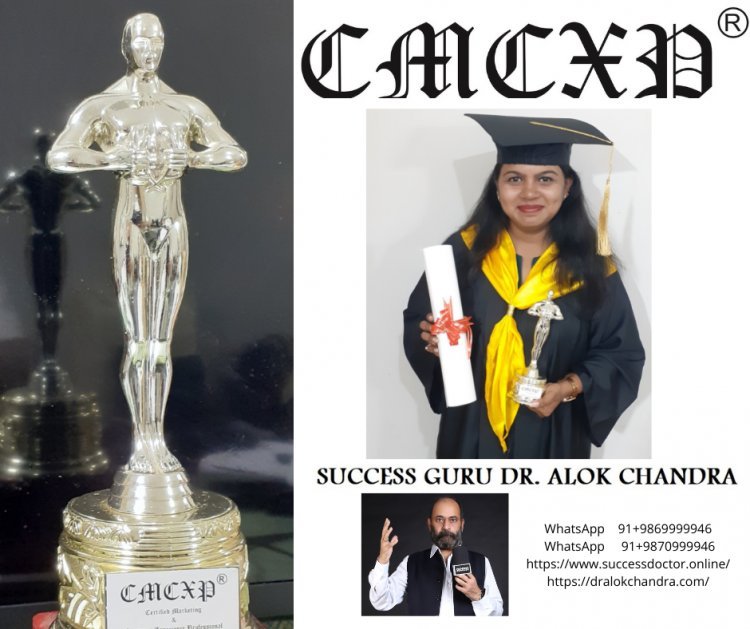 Dr Alok Chandra Announces CMCXP Certified Marketing and Customer experience Professional Credentials for Neo Sales & Marketing 5.0 training .He is starting in India after resounding success in Dubai And Thailand. The Global Sales executives reported an increase in Sales to Billions of Dollars after training and coaching by Success Guru. The Sales training is based on Sales Success Code leveraging Big Data, Artificial intelligence and most importantly, customer experience. He trains on Tech Personal, Social, and Experiential Marketing 5.0 insights. He professes that Customers expect businesses to understand them and deliver personalized experiences. He teaches new strategies for tech-empowered marketing on customer experiences. In the new customer experience era. It's time for Human-Like technologies to take off, reimagining business by revisiting Customer Experience in the Digital World.
Sales Success doctor says now the customer is more empowered due to an internet enabled transparency and speed of transactions. Feedback and experience of family and friends, even strangers, matter more now. With online payment, trust and digital security is a serious concern in the customer's mind. Consumer buying behaviour is dynamic and ever demanding.
India – Prominent success doctor Dr. Alok Chandra has become synonymous with sales success. He has been an inspiration and has been a personal coach to many business leaders and CEO's. He is urging people to look forward to making success.
"No more waiting for you since the consumer is just tapping at your door. If you understand his needs and challenges and fill the vacuum, you will have sales in abundance. We need to understand the customer and upgrade every day. Don't push sales try to solve the customer problems and satisfy needs Sales will happen automatically," as told to our correspondent by Dr. Alok Chandra.
Certified Marketing and Customer Experience Professional credentials can be used along with names as CMCXP This is two day training programme on enhancing sale, leveraging latest tectniques in Sales,Marketing and custorem Experience. It is practical funfilled training as success doctor has known people' coach .
He engages the voices of all key stakeholders in sales performance and creates opportunities to share
sales experiences.He uses manager feedback as a force multiplier, leveraging their expertise and influence, Using less "telling" and more "asking" for their ideas, opinions,and experiences. He propagates crucial codes adults bring their prior experience to the table. His style has the advantage of engaging multiple voices—incorporating the thinking, ideas, and experiences of salespeople, their managers, sales executives, and other experts, moving away from the facilitator being the "Sage on the Stage" to the "Guide on the Side." He has replaced quizzes and games with peer discussions. He has incorporated the learning of global participants' experiences.
.
He told our correspondent that smart teams will do amazing things, but truly diverse teams will do impossible things. The mixed team experience is an invaluable asset He is the protagonist of KISS "Keep it Simple" Well, in the world of sales, simple is not always easy. While learning the steps of a sales process, or the components of a meeting agenda, are simple, the ability to execute on these simple models can be challenging—It is better to learn from the experience of others than learning own mistakes Success Sales Doctor mind training approach, makes novice also a successful sales professional. His Certified Marketing and Customer Experience Professional Credentials training use a practical three-step process that he calls "crawl-walk-run." Step 1: is to ensure that salespeople are grounded in simple theories Step 2: Walk The Talk , second step provides case studies to check their knowledge of how to use the skill.This is more than a simple knowledge check but instead is a check on best practices on how to apply the learning.
Step 3: Run In the final step, sales people apply all the teaching to the practice and other participants and give feedback. This practical training leads to higher sales conversion, Faster sales cycle and Higher Sales Productivity
Success Guru Dr Alok Chandra has been a Recipient of the most prestigious industry awards and a respected industry thought leader. He has global reach and impact, with local facilitation and footprint. He is an architect of authentic, strategic learning partnerships and a decades-long provider of configured learning solutions that deliver undeniable results. He is committed to "Helping People and Organizations Achieve Performance in the dynamic environment ."
About Dr. Alok Chandra
Dr Alok Chandra is based out of India and is a prominent success guru and Professor at LLIM, a No I management institute in Mumbai. He has trained thousands of Sales and Marketing professionals in India and abroad.
Contact: www.successdoctor.online