Glantor X Women leadership Awards 2022 second list released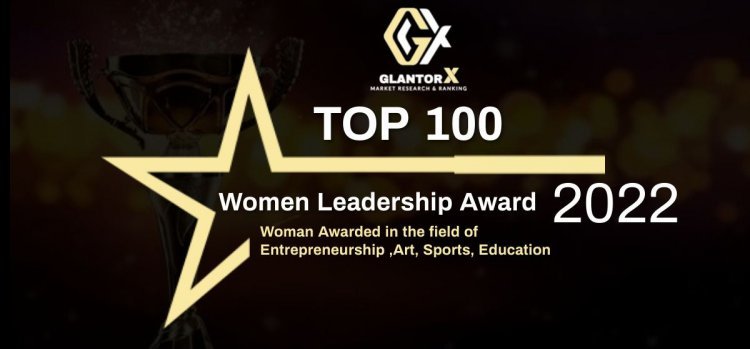 Ever since its arrival into the market, Glantor X is focused on rising to the top of Marketing & Research industry and its efforts are leading it in the right direction. It is now recognised as one of the fastest growing marketing & research organisations of India. It claims that its growth is a product of its work ethics and dedicated workforce. It is primarily specialized in designing custom algorithms to perform customer base analysis and implement market implementation strategies that can best fit the requirement, thereby guaranteeing the desired results.
In addition to this efficiency, Glantor X also decided to prove its philanthropic nature and hosted a string of award ceremonies that are intended to identify, appreciate and honor all the hardworking personalities who went unrecognised or didn't receive the appreciation they deserve. As a part of these events, it recently hosted 'Glantor X Women Leadership Awards 2022' and released the list of Top 100 women who were bold enough to lead and prove that leadership is something that women can excel at. Such women need to be appreciated for their efforts and applauded for their bravery.
The women who made it up to the list are:
Name
Sunita Swaraj
Devyani Kapoor
Sneha Gavane
Dr Swati Sahay
Deepal Mistry
Shobha Ranganathan
Shreedevi Roogi
Vandana Joshil
Dr. Minal Pareek
Prerna Lal
Lakshmi Sirisha Tadepalli
Dr Neeraja Singhla
Dr Smita Ghosh
Varsha Patel
Monisha P S
Radha shree singh
Sanjana Ingale
Sasha Isabelle Lucas
Dr Sonali Kataria Sirohi
Bhavika Wadhwani
Dr Barkha Dev
Isha Varshney
Jalpa Narendrakumar Joshi
Tania Ampung Taj
Ar. Khushbu Doshi
Dr Luxita Sharma
KalaHamsa Dr. Krishna Sahithi
Aditi Kulkarni
Itishree Sahoo
Sabista Khan
Sweety kalita
Yashmin Pattnaik
Kunjal mahesh vira
Aishwarya Sandeep
Navya Karey
Pallavi Mukherjee
Dr S M Sredevi
Khusbu gautam
Dr. Muthumathi Dharuman
Anu K Sood
Dr. Sonal Sisodia
Sanjana nagendran
Dr.Komal Jain
Jigisha Patel
Ruby Taneja
Aparna Srivastava
Rishika Sahoo
Dr. Sansriti Johri
Komna Moidam
Nohitha Cheva
Sanjhna Nayarr
Ms. Srishti Jain
Darqsha
Captain Farah Khan Pethe
Maithili Roy
Shilpi Gupta
Dr.T.Sudha
Anamika Singh
Sharmistha Duttagupta
Sanskriti Bhatt
Erum Saeed
Mmanisha Sandip M
Sandhya Arjun
Ms. Saima Pervez
Brinda Rawal
Mallika Ladi
Kavitha Kumar
Jassila Sikkandar
Adrija Choudhury
Shraddha Sagar Desai
Rajni Rana
Madhulika Singh
Pragya Mishra
Puunam G Kaushik
Arunima Singh
Sara Chawla
Namrata Agarwal
Supriya nagar
Sharmilaa rajesh kannan
Monalisa Chowdhury
Raveena Kumari Sethia
Afsana Firoji
Radhika Bajoria
Dr. Abinaya Vijayakumar
Kirti Budhwar
Naghma Irfan
Dr Rani Mughal
Rabiya Beebi.R.M
Sanskruti Vernekar
Neha Chauhan
Akanksha Solanki
MohiniAchariyaGhosh
Dr. Geetanjali Grover
Namrata Joshi
Jayshri Gupta
K. Pushpa chandrashekar
Reeta Vadera Kelkar
Hemmali Narsiaan
Mrs. Priya Sanju Thakur
Jayanti Gupta
S.JANSI LEELA
Tahseen Rana
Mansi Suresh Soni
Shefali Takalkar
Dr Haleema Yezdani
Riya Rupesh Pawar Mahalungekar
Madhu Nandaniya
Dr. Sudha Girjappa Bansode